---
As the governor and General Assembly consider additional cuts to pension benefits for employees, it's important to understand the role such benefits play in local economies. In 2016, public retirees of the Kentucky Employees' Retirement System, State Police Retirement System, County Employees Retirement System and Kentucky Teachers' Retirement System received pensions totaling $3.4 billion. That's the economic equivalent of an entire industry — for comparison, the accommodations and food services industry in Kentucky generated $4.5 billion in earnings in 2015 while the construction industry generated $7 billion, according to the Bureau of Economic Analysis.
Read more about how pensions benefit communities in the article below:
---
---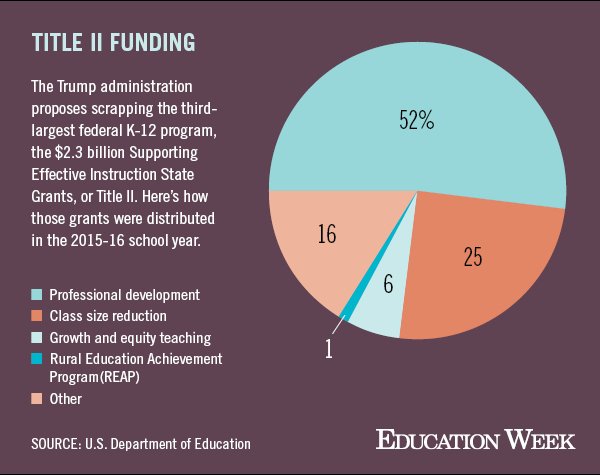 Educators Oppose Trump Plan to Scrap Teacher-Support Program
By Alyson Klein

Federal funding for educator quality helped a small district outside Boston cut down class sizes for beginning teachers. A cadre of Delaware districts used it to help teachers better personalize instruction for students. And the school district in El Paso, Texas, which is always on the lookout for teachers with expertise in working with English-language learners, has used some of the money for recruitment.

Those activities—and thousands of educators' jobs—could be in jeopardy if Congress takes President Donald Trump up on his proposal to get rid of the Supporting Effective Instruction State Grant program, better known to school districts as Title II, after the portion of the Elementary and Secondary Education Act that governs it.

Eliminating the $2.3 billion program could hamper implementation of the law's newest version, the Every Student Succeeds Act. It also could lead to teacher layoffs and make it tougher for educators to reach English-learners and other special populations and to make the most of technology in their classrooms, educators and advocates say.

Title II Funding

The Trump administration proposes scrapping the third-largest federal K-12 program, the $2.3 billion Supporting Effective Instruction State Grants, or Title II. Here's how those grants were distributed in the 2015-16 school year.


The proposed cut is the largest—and arguably, the most consequential—the new president pitched for the U.S. Department of Education in his fiscal 2018 budget request, unveiled earlier this month. Overall, the administration wants to slash spending at the department by $9 billion, or 13 percent of its current, nearly $70 billion budget. The plan would cover the budget year that begins Oct. 1 and generally affects the 2018-19 school year.

The administration has also proposed cutting Title II in half for the current federal fiscal year, according to reports. If that cut goes through, districts would feel the squeeze when classes begin this fall.

The Trump administration doesn't see Title II as effective. The funds are "poorly targeted and spread thinly across thousands of districts with scant evidence of impact," according to White House budget documents.

But educators feel differently. Title II, some agree, may need some tweaking. But it pays for programs that help teachers hone their practice.

"If you're cutting Title II, you're telling me one of two things," said Kevin Cormier, who teaches 7th and 8th grade math at Nissitissit Middle School in central Massachusetts. "One, we're perfect and we can't develop anymore, or two, we suck and we can't be helped."

There may be room for improving Title II, Cormier said, but it also finances valuable work, including an initiative in his district aimed at getting teachers more comfortable with collecting data and analyzing it to improve their practice.

For the Frisco Independent school district near Dallas, which is constantly hiring to keep pace with its ballooning enrollment,

Title II funds are a lifeline for providing professional development to teachers, principals, and other administrative staff members.

The district, whose enrollment shot up from 7,234 students in 2000 to a projected 58,253 this year thanks to a business boom, is planning eight new schools over the next few years, said Manuel Gonzales, the federal programs coordinator.

"We are hiring new principals, new assistant principals, and a large number of new teachers every year because we are growing so rapidly and opening up new schools," Gonzales said. "With that, there is a significant need to provide professional development for administrators and teachers on best practices in the field—everything from how do they collaborate, how to use data effectively, how to create common formative assessments, how to analyze student work and refine their instruction to improve student learning."

And the federal cuts would come on top of reductions to state funding, he added.

"If we lose this from the federal government, that's going to impact us doubly," Gonzales said.

Effectiveness Questioned


The Trump administration isn't the first to question Title II, which represents the third-largest pot of money for K-12 in the department.
U.S. Secretary of Education Arne Duncan told Education Week back in 2009 that the program—then funded at $3 billion—didn't seem to be getting much mileage for the dollar. "Anyone who'd argue you're getting great value for that $3 billion, I'd love to see that analysis," he said.
The Obama administration sought tweaks to the program, including making a small portion of it competitive, rather than having the money flow through a formula, but didn't seek to scrap Title II.

Research on the two main activities districts use their Title II dollars on—class-size reduction, which uses a quarter of the funds, and professional development, which accounts for another half—offer a mixed picture.

Numerous studies have questioned the impact of professional development on student achievement, said Chad Aldeman, a principal at Bellwether Education Partners who served in the Education Department during the Obama administration.
Professional development can help boost teacher confidence and improve their content knowledge, but there isn't a ton of evidence that those benefits translate into student achievement gains, he said.

But Deborah S. Delisle, the executive director of ASCD, an educational leadership organization, said that gains in student outcomes are only one piece of the puzzle. Professional development helps teachers stay on top of their craft, she said.

"Attempting to define the success of professional development through the single measure of student achievement is flawed logic," Delisle said in an email. "I wouldn't trust a doctor who was not continually reading the latest in medical research, and likewise, we can't pretend that educators don't need continuous learning opportunities that will help them become more effective in their schools."

Impact on ESSA Plans

Meanwhile, some studies of class-size reduction, another use of Title II funds, have shown some positive results, while others are inconclusive or don't show much impact. Class-size reduction seems to have the biggest bang for the buck when it's done on a large scale, slashing class size by seven or 10 students, and in the earliest grades.
Getting rid of Title II could make the teacher quality portion of states' ESSA plans more difficult to implement. Those plans are due to be sent to the department beginning in early April.

Pedro Rivera, the state chief in Pennsylvania, said his state considered both teacher preparation and educator effectiveness in writing its plan, which proposes moving to a full-year internship for beginning teachers and bolstering the state's superintendent and principal academies, he said.

"Now some of the funding we were going [to use] is ... in jeopardy of going away," Rivera said. In fact, just days before releasing a budget that would get rid of Title II, the Trump administration put out a template for states to use in crafting their ESSA plans that asks, specifically, how states are planning to use Title II dollars to implement the law.
It's unclear if Congress will take Trump up on the cut.

Aldeman, for one, noted that the money goes out to almost every congressional district. "There's lots of people affected," he said. "Almost every congressman has people who would be laid off because of this proposed budget cut."

Staff Writer Denisa R. Superville contributed to this report.

---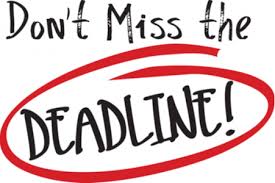 Please note: The JCPS Transfer Application Process window closes at 11:59 pm on Wednesday, March 22nd. If you are planning to put in a transfer request, you need to do so before the transfer window closes.
---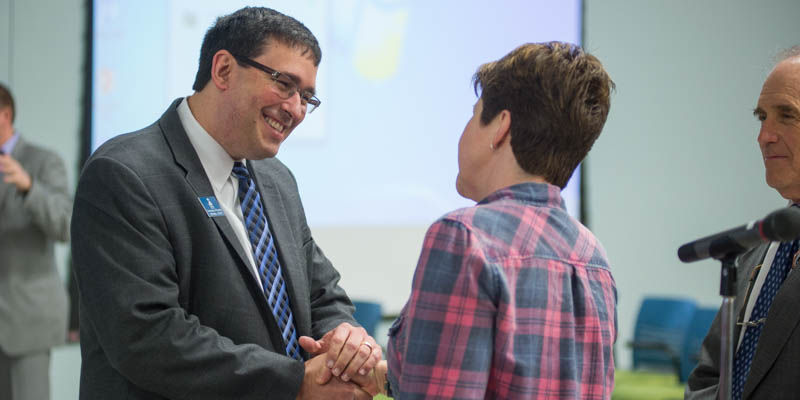 Kentucky Education Commissioner Stephen Pruitt will be hosting a regional Town Hall Meeting on Wednesday, March 22nd at the Kentucky School For the Blind Auditorium (1867 Frankfort Avenue Louisville, KY), from 6:30-8:00 pm to gather feedback from Kentuckians on a new accountability system that has been under development for the past year.


"This system goes beyond compliance, focuses on students and truly reflects Kentucky's values," Pruitt said. "The comments collected at Town Hall Meetings last year, such as we need to educate the whole child, go beyond test scores, and ensure opportunity and access to a quality education for all, informed the development of the system."


Under the as yet unnamed system, schools would be evaluated on how well they perform on five indicators: Proficiency, Achievement Gap Closure, Student Growth (elementary and middle school only), Transition Readiness and Opportunity and Access. Each indicator includes multiple measures. Some will be reported only; others will figure into a school's overall accountability rating. Data will be reported online in a dashboard format that better illustrates school/district progress or deficits than a single number. Data will be reported by student group where available to create more transparency on where gaps may exist.


The work was driven by the congressional reauthorization of the Elementary and Secondary Education Act, known as the Every Student Succeeds Act (ESSA). ESSA shifts much of the oversight and responsibility for schools from the federal government to the state – including how accountability is determined and how to define and improve low-performing schools.


Approximately 3,500 Kentuckians, including superintendents, principals, teachers, parents, business and community members and education partners have participated in the accountability system's development thus far, either through Town Hall Meetings, by providing online feedback or by serving on one of the groups that worked on drafting the system.


"This has been a collaborative effort from the get go," Pruitt said. "I want to stress that the collaboration doesn't end here. This round of Town Hall Meetings is just as important as the ones last year. I hope parents, community members, teachers, students, legislators, business owners and concerned citizens will come to these meetings ready to share their thoughts and ideas," he added. "It's in everyone's best interest to create a system that will prepare our students to be successful, productive citizens of the Commonwealth."

---

February 22, 2017


"The purpose of education is to transmit from one generation to the next, the accumulated wisdom and knowledge of the society and to prepare the young people for their future membership in society and active participation in its maintenance and development." Julius Nyerere, Ujamna, 1968


Dear Representative:


Given that purpose of education it then stands that the authors and proponents of House Bill 151 have not yet grasped from years of learnings and court cases that the impact and intent of HB 151 are to take us back to a bygone era. Under the guise of "neighborhood schools" they seek to take us back to the land of alleged separate but equal schools, which was held unconstitutional by the U.S. Supreme Court in 1954. They now attempt to take us back by bringing forth and using language very like what the U.S. Court of Appeals for the Sixth Circuit found unconstitutional in the 1970's. They now bring back what a group in Jefferson County sought to do a few years ago in attempting to have the Kentucky Courts interpret language to allow for "neighborhood schools" which the Kentucky Supreme Court would have no part of.


Some of the factors which drive us to this conclusion that H.B. 151 would further segregate Jefferson County Public Schools are –

On pure demographic bases Louisville/Jefferson County is segregated racially, economically, socially, culturally and custom by housing patterns (many intentionally)

All current schools are not equal in the quality of instruction, resources available and quality and adequacy of the physical learning facilities and equipment

There are insufficient number of schools in neighborhoods to ensure no unfair and deleterious impact and result on African American and low income students

The bill though neutral on its face is directed at Jefferson County Public Schools as it will not impact any other school district in Kentucky


These factors have not been considered by the proponents of HB 151. Nor have the financial impacts been studied to ensure all students get and receive an equal education without an unfair burden. One estimate alone has found that H.B. 151 would provide for 13,000 additional students to attend non-existing schools in West Louisville where there are not facilities to accommodate them.


The sponsors have provided no answers (either because they do not know or they do not care) to how learning will be addressed in schools where the impact of the bill will concentrate low income and poverty stricken students.

At the beginning of the 2016-2017 school year 91.6% of parents with students in JCPS were satisfied with their child's school assignment. With this data what is the motivation for H.B. 151?

To get the community involved and supportive of JCPS student assignment plan many conces- sions were made to accommodate community desires. Have the sponsors considered how H.B. 151 impact those concessions? Probably not!


Education should be about student achievement. In no way does H.B. 151 address student achievement. They can cite to no study or finding that so-called neighborhood schools improves or have improved student achievement.


With no legitimate and creditable arguments or support for H.B. 151 the only logical conclusion is it is a direct attempt to further segregate Jefferson which is completely and totally unaccept-able. We encourage you to vote "NO"!


Sincerely,
Raoul Cunningham President
---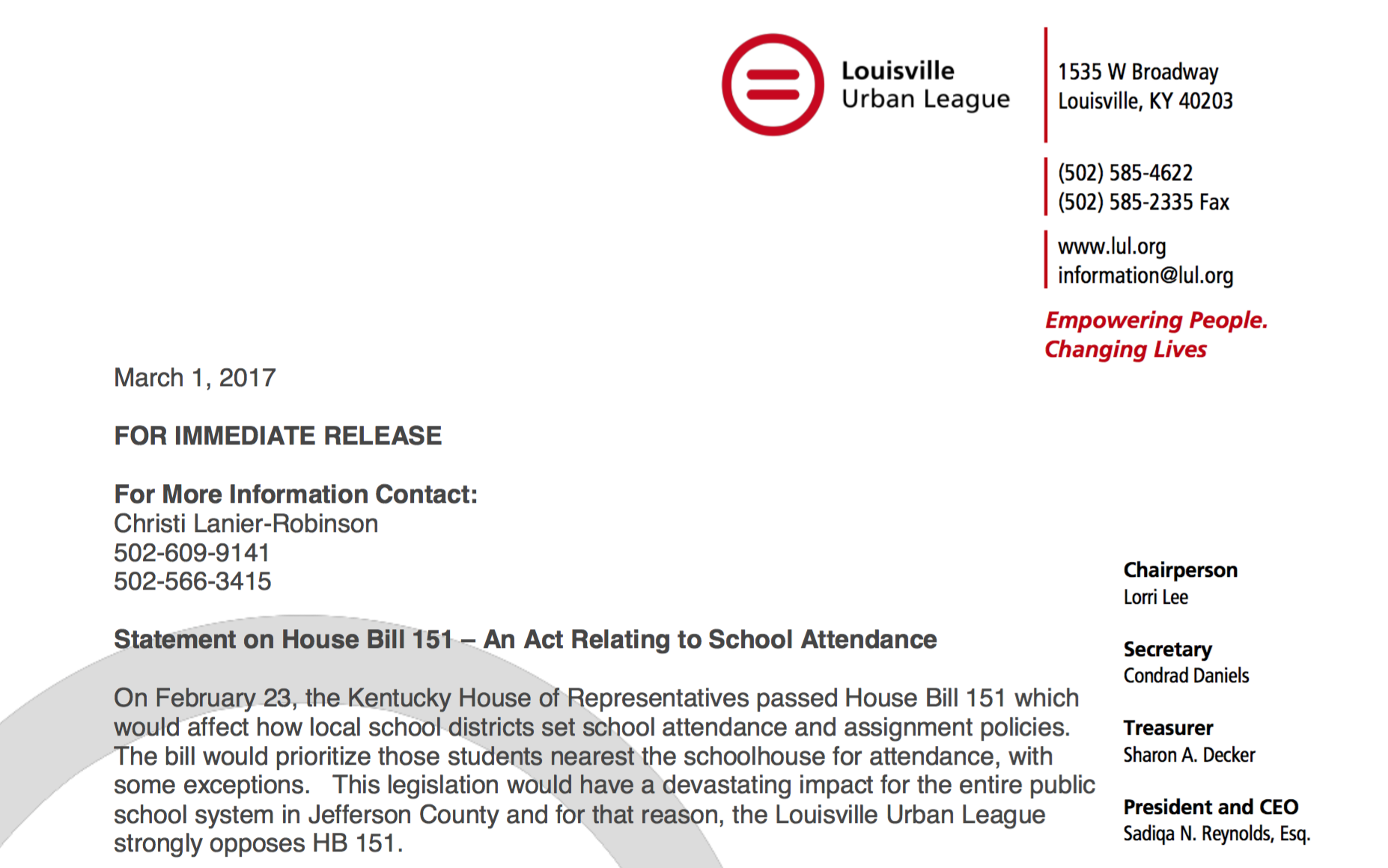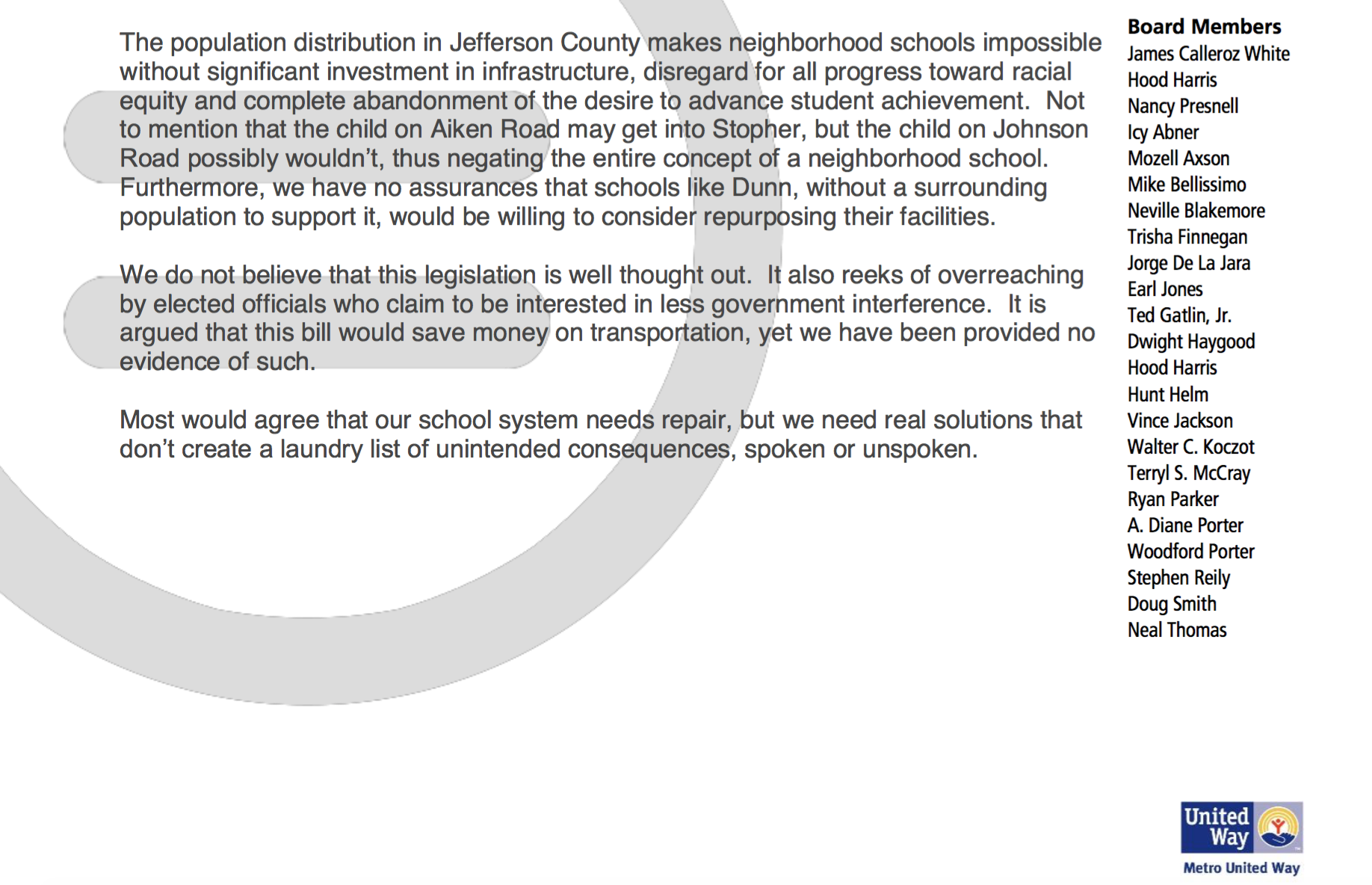 ---
Jefferson County Public Schools Retiring Sooner Webinar

Join us for a webinar on Mar 22, 2017 at 4:00 PM EDT. Register now! https://attendee.gotowebinar.com/register/1837791185727194882
Formerly known as Preretirement, "Retiring Sooner" is designed for members eligible to retire within the next five years. Webinar topics include: understanding your defined benefit retirement plan, the retirement process, postretirement employment, health insurance and the importance of staying informed about retirement.

After registering, you will receive a confirmation email containing information about joining the webinar.

---
Basis of Knowledge:


We have had teachers request information about recent changes to the JCPS Board Policy regarding ECE students and Basis of Knowledge. Those changes are attached here.


The changes are meant to ensure that students who are identified as ECE or are in the ECE referral process are given the protections and rights afforded to them under IDEA.
---
Invitation to attend the RISE (Re-Imagining Special Education) Forum:

On Saturday, March 18th, from 9 am-12 pm, JackBeNimble will be sponsoring the RISE (Re-Imagining Special Education) Forum at the Muhammad Ali Center. The purpose of this event is to bridge the empathy gap that too often complicates a supportive special education system; we can all do a better job when we better understand one another's perspective and lived experience. Through round-table discussions, we invite participants – students, families, educators, policy makers, and more – to "stand in my shoes".

We anticipate 50+ community members, including special ed students and their families. The format is somewhat similar to that of the Edcamp program where attendees will participate in roundtable discussions facilitated by JackBeNimble (JBN) trained staff. We'll open with personal stories from a student/family member, an educator, and an administrator or policy maker. Real people's real stories open hearts and minds.

Discussion topics are selected from participants' concerns and experiences. Skilled facilitators ensure that the discussions are respectful, positive, and focused on opportunities for collaborative problem-solving. All of the ideas are recorded, distilled into actionable opportunities and made publicly available on our website following the Forum.

We invite you to be a part of the conversation to help us to reimagine special education because every student is able to succeed.
To register for this forum, click: http://www.jackbenimble.org/reimagining-special-education
---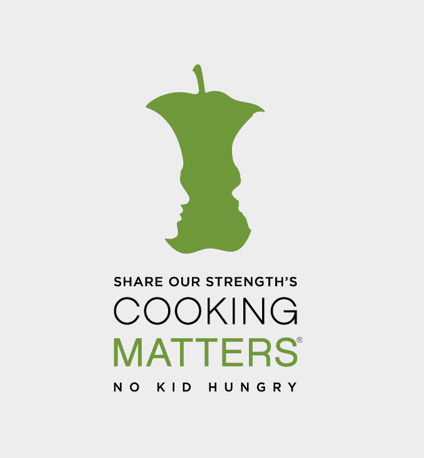 The Dare to Care Food bank is seeking out volunteers to participate in providing its new "Cooking Matters" curriculum. Both retirees and active teachers are encouraged to participate.
To find the Cooking Matters volunteer flier, click HERE.
To read a fact sheet about the Cooking Matters program, click HERE.
---
How to Pick a Better Ed. Secretary Than Betsy DeVos
Four principles for choosing the next U.S. Secretary of Education
By Kevin Kumashiro. EdWeek
February 2, 2017
Eight years ago, in this very newspaper, I warned against the appointment of Arne Duncan as President Barack Obama's first education secretary. He sailed through a Democratic-controlled Senate confirmation despite a track record in Chicago's public schools of advancing a corporate-driven agenda to marketize public schools, alongside test-and-punish policies that fractured the most struggling of communities—a harbinger of things to come. The nomination of billionaire Betsy DeVos, President Donald Trump's pick to be the next U.S. secretary of education, was sent to the Senate, despite a groundswell of concern—including from over 1 million petition signatories—about her lack of qualifications and her problematic track record. In a recent public statement, I joined with 229 current and former deans of schools of education from across the country to prevail on the new administration and Congress to do better. We offered four guiding principles for doing so:
First, uphold the role of public schools as a central institution in the strengthening of our democracy. Too often, education is treated like a commodity for the haves, or a competition where some win and many others lose, as if the marketplace is an appropriate metaphor for what should be a public responsibility. Donald Trump campaigned on a pledge to fuel the marketization and privatization of schools with a $20 billion school choice proposal, which would in actuality consume nearly 30 percent of the federal education budget. DeVos, through her family foundations (funded, in part, by the Amway fortune) and her involvement as a board member of advocacy organizations, has leveraged her wealth to expand school choice and voucher initiatives and deregulate charter schools. These priorities resonate with the Republican Party. DeVos is a top national party donor; a former chair of the Michigan Republican Party; and among the wealthiest "one percent" of individuals in the country. DeVos was the board chair of the national Philanthropy Roundtable, which has long opposed investing in schools as a public good, instead turning to school choice as one of the most effective policy and rhetorical levers for privatizing.
We need a vision for public education that will not deepen the divide between the haves and the have-nots. Every child should be able to receive the very best that our country has to offer, regardless of his or her circumstances of birth.
"We should be wary when policies are developed with goals other than the learning and wellness of our children."
Second, protect the human and civil rights of all children, especially those from historically marginalized communities. Such is difficult to imagine when Trump signed an executive order in the first weeks of his presidency banning U.S. entry for travelers from seven Muslim-majority countries for 90 days, all refugees for 120 days, and Syrian refugees indefinitely. During the Senate education committee meeting, Sen. Christopher Murphy, D-Conn., shared that DeVos would not commit to the Department of Education's collection of civil rights data in his private meeting with her, which is a contradiction of what she had earlier assured Sen. Patty Murray, D-Wash., the ranking member of the education committee. For more than half a century, during both Republican and Democratic administrations, the federal government took the lead in protecting and supporting underserved groups in schools by addressing race discrimination in the Civil Rights Act, poverty in the Elementary and Secondary Education Act, gender discrimination in Title IX, language discrimination in the Bilingual Education Act, and the needs of students with disabilities in the Individuals with Disabilities Education Act, to name a few. Such laws are not perfect and have not always been applied equally, but they reflect core democratic ideals that the federal government must continue to advance.
Third, develop and implement policies, laws, and reform initiatives by building on a democratic vision for public education and sound educational research. We need leaders to be informed and judicious, but during her Jan. 17 confirmation hearing, DeVos displayed a stunning lack of knowledge about key federal laws, including the Individuals with Disabilities Education Act. She came up cold when the questioning turned to policy debates and learning assessments. She also failed to discuss in detail her perspectives on such issues as institutional accountability and protections against fraudulent use of federal funds, or her own track record in Detroit public schools—an expensive experiment that even some supporters of choice say has failed. Our children deserve a much higher standard for decision-making.
Fourth, support and partner with colleges and schools of education to advance these goals. We should be wary when policies are developed with goals other than the learning and wellness of our children. According to the Center for Media and Democracy, DeVos funded and chaired the foundation American Federation for Children, which exerts significant but undisclosed influence (also known as "dark money") on elections, and sponsors and partners with the American Legislative Exchange Council. ALEC is perhaps best known for developing "stand your ground" gun laws and voter-ID laws. ALEC has also long shaped education laws, from providing vouchers and school choice-related tax credits, to undermining the Individuals with Disabilities Education Act, to weakening teacher protections, to denying climate change in curriculum.
The federal government and education leaders have many other potential partners with whom to work collectively to build a successful educational system: students and parents, community organizations and businesses, and educators and education scholars. Schools cannot improve unless all are working together.
Current and former education deans are working to improve schools with these principles as our guides, as we imagine that many others across the country are doing. We hope that our federal leaders share this vision and join our movement.
Kevin Kumashiro stepped down as the dean of the University of San Francisco School of Education last month after serving in the position since July 2013. He is the founder of Education Deans for Justice and Equity and is the author of Bad Teacher! How Blaming Teachers Distorts the Bigger Picture (Teachers College Press, 2008).
---


Dear Activist,
The Senate education committee just voted to advance Betsy DeVos' nomination for secretary of education. Next she'll face the real test: a vote of the entire senate. It's taken almost a month for her nomination to get this far, and the fight isn't nearly over yet.
You've sent more than 1 million emails, and called senators more than 50,000 times, and believe me - they are taking notice. In explaining why she'll vote no, Senator Heidi Heitkamp (D-ND) said that 95 percent of the people that contacted her office opposed DeVos. Ninety-five percent! At the vote this morning, Senator Murkowski (R-AK) said she is still undecided, and that she is listening to the serious concerns of the thousands of her constituents who have called. And they're not the only ones. We've heard from senate staff that they're getting more emails and calls from our members and allies about stopping DeVos than they've ever had about a nominee.
Trust me - you are making a difference. We have to keep the pressure on. Keep calling. Keep emailing. Keep telling your senators that Betsy DeVos cannot be put in charge of our nation's schools.
Call 1-855-882-6229 to speak to your senators.
Click here to email them.
Our senators need to know that we will never back down when our students and public education are on the line. Let's keep up the fight.
Lily Eskelsen García
President
National Education Association
---
Looking for fresh BLACK HISTORY RESOURCES?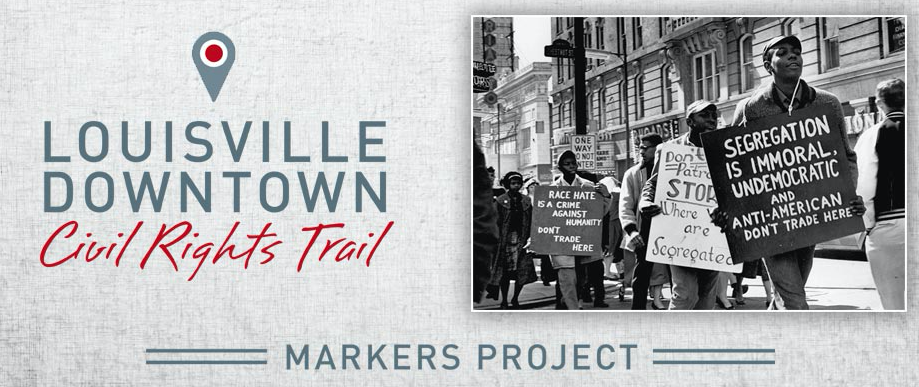 The Louisville Downtown Civil Rights Trail curriculum guide and brochures are available in all Jefferson County Public Schools.
There is a dvd or you can download it from the university's website.

The information is also available on the university's website below.

louisville.edu/artsandsciences/idep/engagement/civil-rights-markers-project



---
Registration opens in March! Seeking Presenters NOW!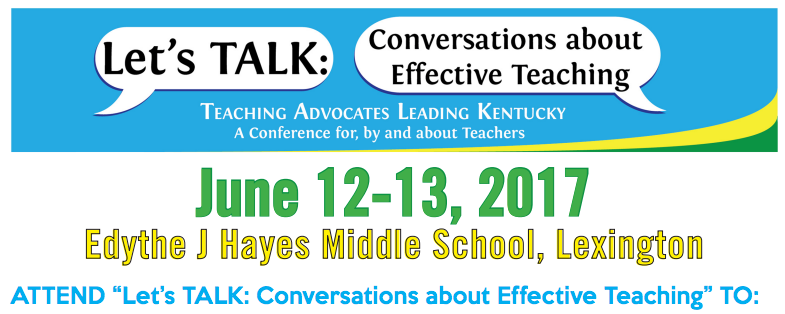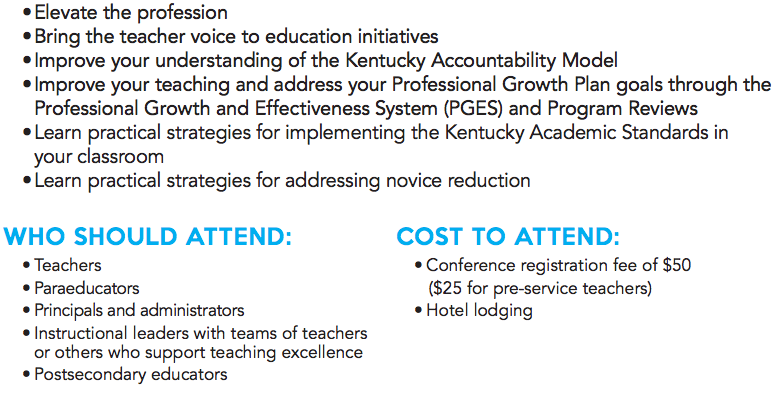 ---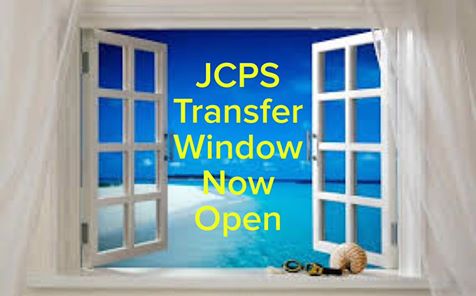 The JCPS Transfer Application Process for the 2017-2018 School Year is open from January 1st-March 22nd.
JCTA will be providing "Understanding the Transfer Process" workshops at the JCTA office from 4:30-6:30 pm on the following dates: Feb 16, 22; March 6, 14, 16. Go to the Calendar of Events on the right side of the JCTA Website home page and click a date to register.
To get to the link for the transfer application, click here.
---
You are invited to a free screening of the documentary film "Education, Inc"!
Charter school legislation is on the agenda for this year. Come to our film screening to learn about charter school experiences in other states.
Click here to see dates and locations!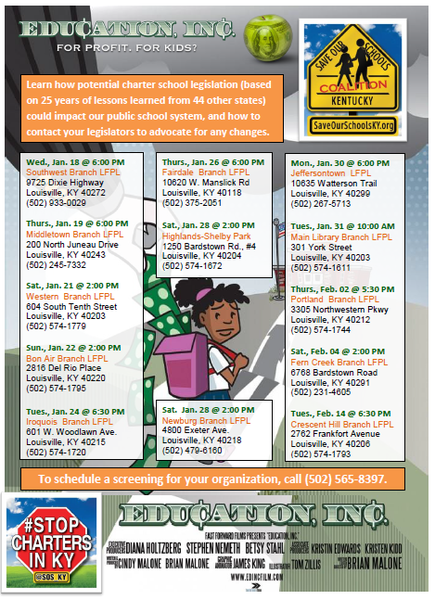 ---
Nominations for Delegates to KEA Assembly Now Sought:
The KEA Delegate Assembly (DA) will be held Wednesday, April 5 through Friday, April 7, 2017 at the Marriott Down­town in Louisville. The deadline for filing nominations is Wednesday, January 18 at 5 p.m. Candidates may include a resume (50 word limit), which is also due by 5 p.m. on January 18. The nomination form may be found below. Resumes will be sent to buildings and will be viewable in the members-only section of our website on January 30. Electronic voting will begin at 5:00 a.m. on Wednesday, February 1 and end on Wednesday, February 8 at 5:00 p.m. JCTA elects over 100 delegates to represent us at the KEA DA, so we encourage all interested members to complete a nomination form. Delegates do receive stipends for attendance. If you have any ques­tions or need more information, please contact UniServ Director Elana Crane (elana.crane@jcta.org) at the JCTA office.
KEA NOMINATION FORMS:
Nominations for Delegates to NEA Assembly Now Sought:
The annual NEA Representative Assembly (RA) will be held June 30 through July5, 2017 in Boston, Massachusetts. We encourage all members to consider running for NEA Delegate; it is a wonderful opportunity to meet teachers from around the country and to help set policy for our national association. The deadline for filing nominations is Wednesday, January 18 at 5 p.m. Candidates may include a resume (50 word limit), which is also due by 5 p.m. on January 18. The nomination form may be found below. Resumes will be sent to buildings and will be viewable in the members-only section of our website on February 1. Electronic voting will begin at 5:00 a.m. on Wednesday, February 1 and end on Wednesday, February 8 at 5:00 p.m . JCTA elects 40 delegates to attend the RA; delegates receive a stipend to cover travel expenses. If you have any ques­tions or need more information, please contact UniServ Director Elana Crane (elana.crane@jcta.org) at the JCTA office.
NEA NOMINATION FORMS:
---